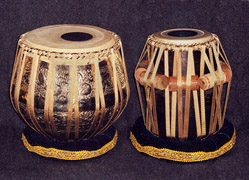 Tabla with Nylon Strap
(click on the picture for a full-zize version)
This special item is an alternative to the
rawhide strap traditionally used on the tabla. It is similar to the nylon webbing used by rock climbers.

Features of Nylon Strap:
- stronger and easier to work with than traditional rawhide strap
- lasts much longer and can be used for multiple reheadings without developing weaknesses
- less stretching over time
- costs less than the traditional strap available in the USA
- 3/8 inch width fits all tabla heads
- 37 1/2 foot (11.5 meter) length fits all standard drums with extra left over (custom lengths available for particularly large or double-headed drums)
- new natural look excellently matches the color of the traditional rawhide strap
"Gabe Halberg's innovative use of nylon strap on tabla reheading is a major advance in the centuries-old problem of head stability and tabla strap breakage. Gabe reheaded one of my university's worst tabla with the nylon strap and it is now one of our best drums. There has been little slippage over 4 months and the tone is excellent. I highly recommend his repair service."

-Robert Chappell, Head of Percussion Studies, Northern Illinois University


---

Nylon Strap:

$16.00 per 40 foot length of nylon strap (includes additional short length for bottom ring).

$4.00 shipping/handling within the USA for one length of strap. Add $1.00 per each additional length of strap.
For orders of up to 4 lengths use the Add to Cart button. For 5 lengths or more, see the bulk orders pricing chart.
International orders: Contact Gabe for shipping costs, etc.

Free samples of nylon strap available
(six inch length).
with a request.
---
Gabe Halberg
180 Bartlett Road
Plainfield, VT 05667 USA
802/454-9336